ABOUT PARTNER PROGRAMME
Partner Programme of the Ljubljana Stock Exchange is intended for
all ambitious entrepreneurs, managers and owners
who strive for optimisation of operations and related financing resources. Proper presentation and placement of the company i n the world of capital markets can be, with the right amount of knowledge and experience and insofar as the company's management has the right support of the right partners at its side, very simple.
The Programme offers exclusive knowledge in the filed of regulatory framework and operations in the domestic and international capital market. In addition to the educational part, the Programme's workshops
are devoted to the real needs of an individual company with regards o financing and to simulations of potential issues of different types of securities.
In accordance with your ambitions, the Programme offers you the opportunity to showcase your company to the most appropriate investment community - roadshow.
Within the
ecosystem of the Ljubljana Stock Exchange
, there is a wide range of experts from the world of finance, advisors and investors, which form a strong background of knowledge and experience and are constantly available to entrepreneurs who enter into a partnership with the stock exchange.
PROGRAMME ECOSYSTEM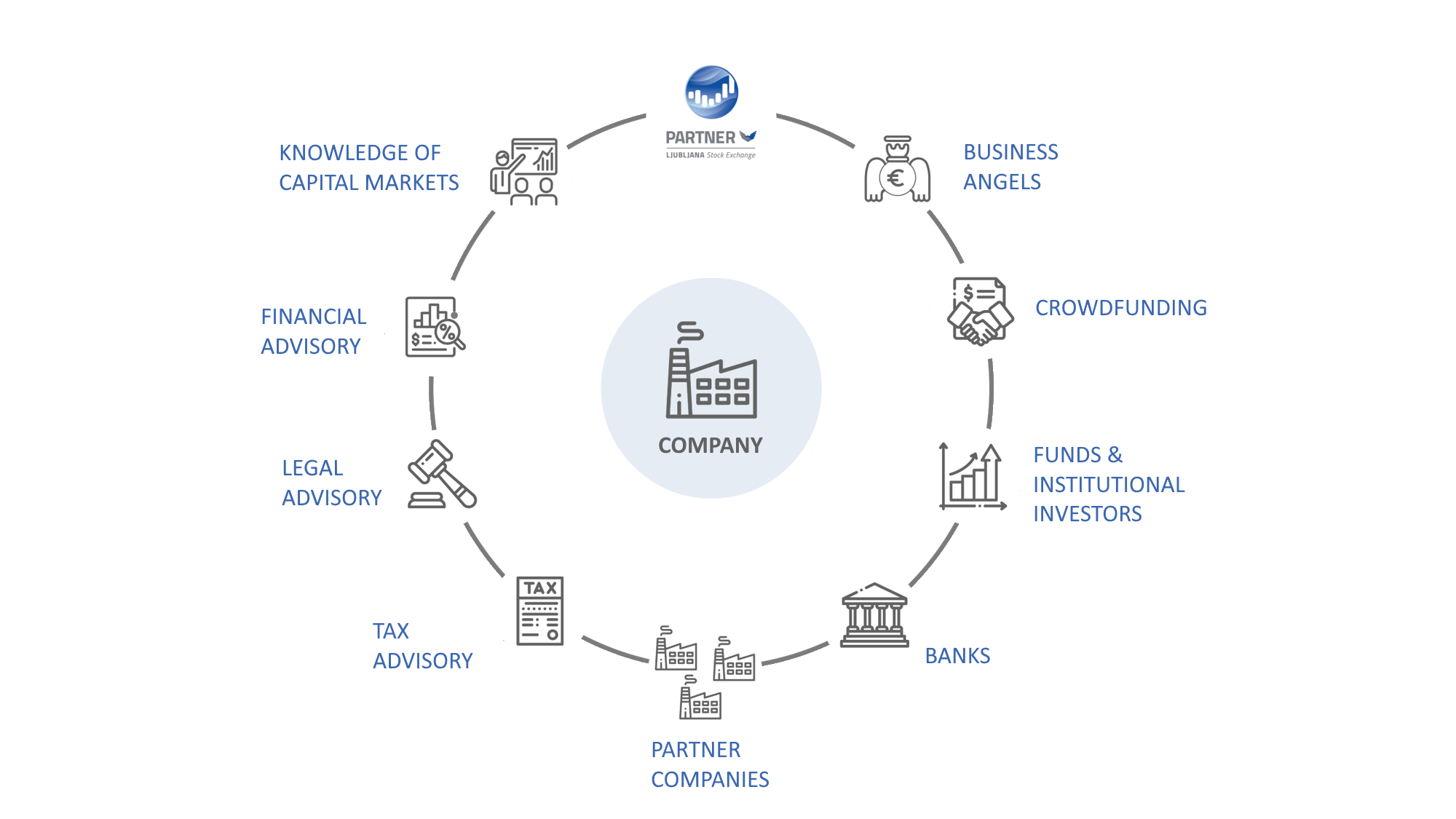 BENEFITS OF PARTNER PROGRAM
Maximization of the company value
Upgraded business model
Optimization of business processes
Increased business transparency
Launch of a new growth
Breakthrough to foreign markets
Increased recognition of the company in the eyes of customers, partners
Optimization of the financing structure
Higher level of competences and bonuses on financial markets
HOW DOES PARTNER PROGRAMME WORK?
Through interactive workshops and an individual consulting and implementation approach, we acquaint your company with the latest business models and business practices.
WHO LEADS THE PARTNER PROGRAM?
A team of renowned experts in the field of financial consulting, management and corporate finance.
Meet them!
WANT MORE INFORMATION?
For an introductory meeting, send us an email to:partner@ljse.si
READY FOR SUCCESS!
By joining the Partner Program, you will never be alone again. In addition to the team of moderators, there is an environment of financial experts and partners of the stock exchange, which is available to you at any time.